A lot happens here in Carlisle during the year!  We start out in January with the Annual Dinner at which time we recognize Carlisle's Business of the Year, Citizen of the Year, Employee of the Year, and Friend of Education. These awards are given to our citizens and businesses who have volunteered their time/talents for the betterment of the community.
Chamber Events
Lunch and Learn meetings are from 11:45 a.m.-1 p.m. on the Second Tuesday.    Come and enjoy a delicious meal, network, and learn about the offerings to help existing small businesses.  Stay current with our newsletters for location and time details! PURCHASE MEAL TICKETS
Chamber Golf Outing the third Saturday in August provides a day of fun and raises money for youth activities in the Carlisle area.  Click here to view our Golf Outing details on our Sponsorship page!
Welcome Back to School Breakfast is held in August for the Carlisle Community Schools teachers and staff.  Click here to view our Teacher Appreciation Breakfast details on our Sponsorship page!
PumpkinFest is October 24th, 2020 from 1-3 pm features a costume parade through downtown Carlisle, Trunk or Treat, most original carved/decorated pumpkin contest, vendor booths on the street, photos, and more.  As we encouraged local residents and businesses to participate in the popular event which distributes candy safely and provides games and activities to about 400 children in historic downtown Carlisle.  Click on flyer below to print your business a flyer.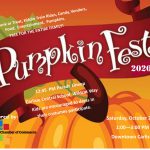 Light Up Carlisle is December 13th, between 5-7 PM for kids of all ages.  Dress your kiddos in their jammies and drive through the Winter Wonderland at North Park directly to Santa. Each child will receive a special treat from Santa. In the spirit of the season please bring a can of food to share with a less fortunate family. See you there!
Carlisle Chamber's Annual Dinner will be held at Summerset Winery. The evening will start with a cocktail hour, followed by a dinner, then "Of the Year" awards will be presented. There is entertainment that is fun for all ages. Chamber members and their guests have the first opportunity to reserve seats. This event is open to the public. Sponsorship opportunities are available.
Legislative Opening Day Reception is typically the 2nd Monday in January. Every Chamber of Commerce is invited to participate and show off their community.
Warren County Regional Chamber Legislative Luncheon is held in December. This allows the members of the Warren County Chambers to get a feel for the issues that are on the docket for the upcoming year.
Community Area Events
Farmer's Market – Beginning, June 4th, and Ending, October 31st, the Carlisle Farmers Market will be held every Saturday from 8:30 a.m. until 11:30 a.m. at the Wyckoff parking lot on the corner of Highway 5 and 1st Street.  Local produce vendors, baked goods, crafts, and more!
The 4th of July Celebration
To be a sponsor or for a community event and program promotion, you must be a Chamber member receiving membership benefits, established partner, or vendor.  Carlisle Area Chamber of Commerce may grant an exemption to this requirement upon approval, so call for details.